How warm is the water?
Around 93.5F, which is roughly the same temperature as your skin.
😌What if I feel overwhelmed?
You can open the door at anytime and can turn on the light in the device if you would like.
⏰How long before my appointment should I arrive?
We recommend arriving 20 minutes before your first appointment so that you can spend some time filling out some paperwork we have. Also we have books and other things to look at while you wait.
🧼 How clean is the water?
After each float we run the filtration system which will pump the water through a 10 micron mechanical filter for at least three cycles while utilizing the combination of hydrogen peroxide and UV, which helps remove potential pathogens from the water. We don't use bromine or chlorine since they can be harmful to your lungs in an enclosed enviornment.
What should I expect?
While each individual experience is different, it is best to not expect anything specific.
What if I'm menstruating?
Take the same precautions that you would take when going to a swimming pool.
🤰 What if I'm pregnant?
Always consult with your doctor first. Many pregnant women have claimed a greater sense of connection with their child during the float experience as well as relief from the constant pressure and strain on your body that growing a child can cause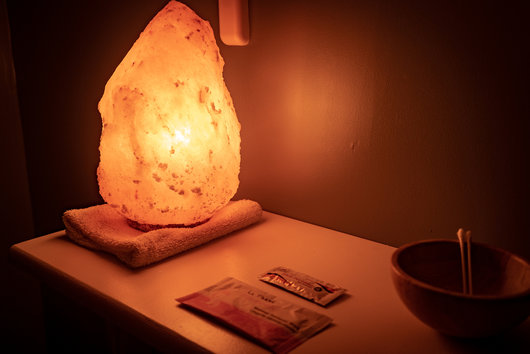 🧂 How does the water keep me afloat?
There are at least 1,000lbs of epsom salt in each device which significantly increases the buoyancy and makes it nearly impossible for your whole body to fall below the surface of the water. You float with ease on your back. Also, if you fall asleep and roll over the salt water will get in your eyes and sting badly so you'll wake up right away.
What if I'm claustrophobic?
This is a very common topic for first time customers. People that have had this worry going into their first float usually find that their sense of space is not bothered once inside the device with the lights off. If you ever feel uncomfortable you can simply turn on the lights, stand up, and get out of the device to collect yourself.
🔥💧Should I use the sauna before or after a float?
Either way works well. Some prefer to do the sauna before the float because it helps you relax. It's helpful to take a cooler shower afterwards before the float so the float water doesn't feel cold. Doing the sauna after a float is nice since the float water temp won't feel affected by the sauna.
🛁 How are your float devices different from a bathtub?
It's actually much different. We have around 1,000 lbs of epsom salt in each of our devices (which makes you buoyant), the water temperature is skin receptor neutral, the devices are large enough to not touch the sides, and there is limited light and sound. Being in this sensory neutral environment allows your body and mind to truly relax and these effects can be carried into your everyday life sometimes days or weeks after the float!
🧒 Is there an age limit?
We don't have a age limit but we do require minors under the age of 18 to have a parent co-sign the waiver. Typically under the age of 9 we'd recommend you be present with them in the room while they float.
😴 What if I fall asleep?
This is perfectly okay and many people do fall asleep. Many say it can be a very restorative and restful sleep.
Is there a weight/height limit?
We've heard of people up to 450lbs floating comfortably in our devices. As far as height goes we've had many people float who are 6'3" or taller but if size is a concern we'd recommend our cabin as it's more spacious (about 5 feet wide and 8 feet long).
Do you offer couples floating?
We don't offer "couples floats" but you can both float at the same time in different devices. You can however use the sauna at the same time.
😌 What level of control do I have over the float device/room?
You have complete control over the environment. Private room to yourself, can play music while floating, light on/off, get in and out at anytime, leave the lid/door open or closed, whatever is most comfortable for you.